CoreAVI understands the challenges integrators face designing a new system application. The application requires hardware, graphics drivers, board resident software, a board support package, and an operating system, all of it safety critical. It all must be properly integrated, but when each component is sourced from a different vendor, seamless integration and safety certification becomes inherently risky.
To make things easier for our customers, we have created Platforms for Safety Critical Applications, whereby our customers can obtain all the building blocks needed for a safety critical application – COTS Hardware IP, graphics and compute drivers, firmware, and even development hardware – right from CoreAVI. Having a single source for all these pre-integrated components reduces risk, speeds time to market, and prevents a lot of the integration headaches integrators might encounter.
CoreAVI's Platforms for Safety Critical Applications (PSCAs) includes the following building blocks:
COTS-D hardware IP and source files for our SBCs and graphics modules
VkCore® SC Vulkan-based graphics and compute drivers
VkCoreGL® SC OpenGL® SC application libraries
Video Encode/Decode drivers and libraries.
ComputeCore™ compute libraries
SafeAICore™
VkCoreVX™ SC
An RTOS development environment and Board Support Packages (BSP) from CoreAVI or from our strategic partners.
Board resident boot software, and other supported software modules
Certification data kits for the most stringent levels of safety certification are available for PSCA solutions, including RTCA DO-254/DO-178C, EUROCAE ED-80/ED-12C hardware and software certification evidence, an Accredited Safety Certificate for ISO 26262, IEC 61508 and other safety standards as required.
By providing the entire stack through a single source, PSCAs lower risk, lower cost, and reduces delivery schedules for safety critical systems.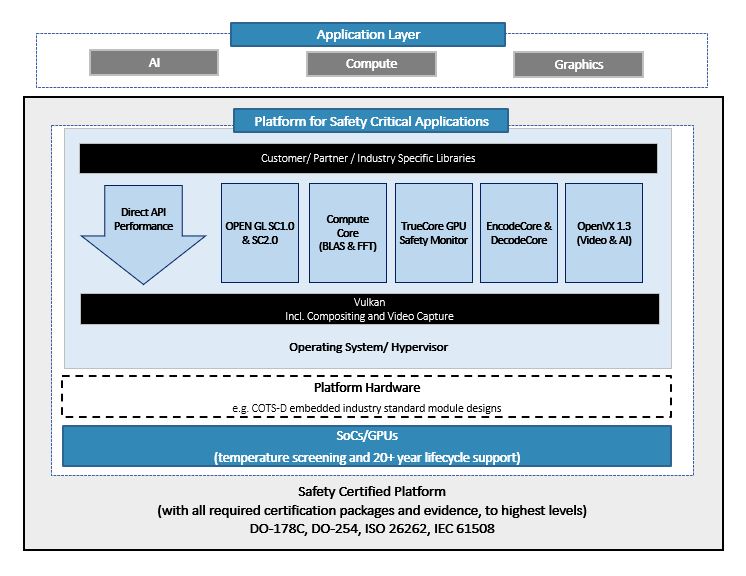 Find out more about each PSCA building block below:
To inquire about or license any of CoreAVI's products listed above, please contact us at 1-800-330-5376 or Sales@coreavi.com to discuss pricing and your complete solution requirements.