My first encounter with aviation was in 1990 when I was posted to an Unmanned Aerial Vehicle (UAV) squadron with the Republic of Singapore Air Force. Known as the Field Photo Unit with the Singapore Army, its Scout700 Remote Piloted Vehicle assets were transferred to the Air Force under 128 Squadron 2 years before I entered the squadron.
The core mission of the squadron at that time was to provide field reconnaissance and battlefield surveillance to our Army and to further expand their training doctrine to enhance their capabilities. This was achieved when we started to involve the squadron with Naval and Air Force exercises.
Our unit was first equipped with both gyro-stabilized day cameras and Forward Looking InfraRed (FLIR) cameras. Technology continued to evolve with better imaging sensors – one example being the use of an Electro Optical/ InfraRed (EO/IR) camera and laser designator which strengthened the ability of the squadron to execute its missions. New UAVs such as Searcher, Hermes 450 and Heron 1 were acquired as the squadron continued to grow in importance, providing the ability to fly at a higher altitude with a longer endurance capability.
While manned aircraft are still the main pillar in armed forces around the globe, there is an increasing trend to integrate the operation of both manned and unmanned aircraft within the same airspace. To a certain extent, there are also plans to replace some of the combat manned aircraft with unmanned systems to reduce the risk of loss of life or being captured by the enemies.
Modern UAV Use Cases
Fast forward to modern battlefield scenarios. Military domains all over the world are operating UAVs and have added in modern technologies such as automatic take-off/landing capability, vertical take-off/ landing capability, autonomous control, Artificial Intelligence (AI), Global Positioning System (GPS) and 3-Dimensional (3D) Scanning using Light Detection and Ranging (LIDAR) systems. Unmanned Aerial Vehicle technology has migrated into Unmanned Surface Vehicles, Unmanned Ground Vehicles, Drones and Autonomous Aerial Systems.
UAV technology, its capabilities, and its use cases have grown tremendously from those exclusive to the military, to a wide range of other capabilities including emergency response, humanitarian aid and disaster relief, crime fighting, cargo transportation, industrial surveillance in the energy and architectural industries, and leisure and entertainment.
Similarly, on the ground, it is also evolving where the use of sensors such as LIDAR, ultrasonic, infra-red, and camera systems is moving the technology toward driverless cars or autonomous driving.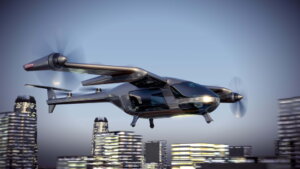 We are reaching the age of urban air mobility (UAM) where companies such as Volocopter, Joby Aviation, Airbus, Lilium and Ehang are developing autonomous air taxis at a rapid pace to provide efficient, sustainable, and safe urban air transportation while easing traffic congestion on urban roads. The appropriate question to ask is: how do governments and the certifying bodies collaborate on regulatory policies to ensure effective traffic management, safety, and security? The answer: Regulatory bodies and manufacturers will have to investigate the use of technology and prove that it is ready for safe public deployment and adoption. CoreAVI and the other industry players are working to ensure platforms utilizing safe AI within the autonomous domain meet the stringent requirements outlined within safety standards such as DO-178C, DO-254 and ISO26262.
Also, the industry and the governments are already collaborating to establish effective traffic management systems and protocols.
Asia Pacific
The Asia-Pacific region is fast emerging as early adopters of urban air mobility and drones, with several leading corporations providing substantial financial support for electric Vertical Take Off and Land (eVTOL) programs. The following are a few examples of how countries in Asia-Pacific are working to enable "everyday" use cases for modern airborne unmanned technology.
Australia and New Zealand
The Canberra government has licensed Unmanned Systems Australia to operate Wing drones to deliver food and medical supplies (during daylight hours) to homes and businesses under the Project Wing program.
Airways New Zealand is working with Zephyr Airworks with the trial of AirMap. This will allow the integration of air taxis into the air navigation service provider's developing Unified Threat Management (UTM) network. Boeing, together with eVTOL start-up Kitty Hawk, created a new joint venture that will be creating the Kitty Hawk's two-seat, electric Cora aircraft. The Kitty Hawk has now completed more than 1,000 test flights in New Zealand. Drones can be used to capture images of slips in the district's network of rural roads, as well as areas where streams have overrun their banks to threaten road safety. This allows transport issues that have arisen in response to disasters such as floods or earthquakes to be resolved more quickly, with post-processing software.
China
The Alibaba-owned Ele.me food delivery company has been granted permission to distribute food to residents of Shanghai's Jinshan Industrial Park with drones.
Airbus has been operating its China Innovation Centre to focus on designing, testing, and certifying new technologies for Urban Air Mobility (UAM).
Chinese automotive group Geely, which holds a stake in Daimler and has announced an investment of around $55 million in Volocopter, is considering the mass-production of VoloCity and taking UAM operations to China. Most importantly, the mass producing is to bring down the cost of operating the VoloCity to that of other Chinese urban cities, as China speeds up urbanization.
EHang is boosting efforts to complete the development of their all electric, autonomous Air Taxi 216 and 116 aircraft. They have begun demonstration flights in Guangzhou and other locations in China, Netherlands, Austria and the United States and claims to hold "orders" for around 1,000 aircraft. The 216 can carry a payload of 220 kilograms on flights of up to 22 miles and at speeds of up to 81 mph. Its single-seat sister aircraft, the 116, has the same range and speed limits.
EHang's drone enables aerial logistics for Yonghui Group in Guangzhou to provide aerial grocery delivery services and jointly launch a fully automated smart drone delivery system with international shipping company, DHL Express.
Japan
Rakuten, Inc., an e-commerce, communications and Financial Technology (fintech) company, announced plans to provide unmanned delivery services by drones in rural Japan. They will collaborate with JD.com, China's largest retailer, to use their expertise of drones and unmanned ground vehicles to suit a wide range of applications and situations.
Toyota Motor Corp. has also made major investments in the fast-growing eVTOL sector and has been named as the lead investor in Joby Aviation. Toyota will provide for the development and quality control of its S4 eVTOL.
Korea
Hyundai Motor Company and Uber revealed plans to work together to develop a new eVTOL aircraft to be used for the proposed Uber Air air-taxi service and is planning to test the eVTOL flights in Melbourne, Australia.
Singapore
Working with the Singapore government, urban air mobility pioneer Volocopter has completed the first manned flight over Singapore with success. The flight kicks off efforts by Volocopter to carry commercial air taxi services to Singapore after getting the approval from the Ministry of Transport (MOT), and the Civil Aviation Authority of Singapore (CAAS).
Singapore Post (SingPost) used a UAV for point-to-point recipient-authenticated mail delivery to facilitate urban logistics in a burgeoning eCommerce growth in Asia Pacific.
Our client, Singapore Technologies (ST) Engineering collaborated with Foodpanda in a program called PandaFly to deliver food using DroNet – ST Engineering's drone network system.
In my opinion, Singapore will be an epitome of UAM and drone applications for many urban cities in Asia with its rapid development in 5G cellular networks and with many ministries in Singapore developing drone applications for social distancing, food delivery, firefighting and area surveillance.
Synergies
The UAM market has been able to draw many synergies for its development. The development uniquely expedited the eVTOL technology, firstly with drones and subsequently with manned aircraft and UAM or air taxis. The need for autonomy in such flights has also increased the need for R&D in order to support the management of the flight without a pilot. This has inevitably aided the development of autonomous terrestrial vehicles efficiently since the industry can now draw parallels from both the aircraft and the vehicle and share the know-how between them.
Safety Certification Approach
In Singapore, the government is planning for UAM to take to the skies within the decade. With the possibility of UAM becoming a new way for us to commute to work to reduce surface transport congestion, the need for regulatory and certification is evident to bring UAM transportation into mainstream market use.
From CoreAVI's experiences in safety certification, airspace management and certification are the two most critical elements for a safe operational environment with the development of any new and modern aircraft technology. To manage the airspace and integrate UAM into the current aviation environment, regulatory bodies have ascertained that the legacy Instrument Flight Rules (IFR) and Visual Flight Rules (VFR) must continue to be honored, but flexible procedures would need to be set up for operators to address airspace needs and scalability. Reasonable airspace access would have to be established to help maximize routing preferences for UAM and not cause any inconvenience to the existing aviation operators.
There have been positive advances in Europe in the field of certification. The European Aviation and Space Agency (EASA) has pioneered VTOL certification. This is the first step in a process that will establish a regulatory structure for safe operation and certification in Europe.
China has announced that it will issue guidance on UAV airworthiness certification and will also cover manned VTOL operations.
Companies such as EHang, Elroy, Joby Aviation, Kitty Hawk, Sabrewing and Volocopter are also working with the FAA and the various Civil Aviation Authorities all over the world to develop airspace integration and certifications. The Society of Automotive Engineers (SAE), American National Standards Institute (ANSI), Radio Technical Commission for Aeronautics (RTCA) and ASTM all have committees working on guidance for UAS Safety, Security and AI to develop and publish the safety standards for UAM operations.
CoreAVI has been involved with these committees and can help to set guidelines and offer support for system integrators to achieve the required certifications to introduce their aircraft into operations.
Safe Artificial Intelligence (Safe AI) in Modern Unmanned Platforms
Safety has become a top priority and will be more so when new aviation technology is implemented around the world. AI systems must be safe and stable throughout their service life, as well as be practical and feasible.
Artificial intelligence algorithms (like Machine Learning) are designed to learn from encounters with their environment and alter their behavior accordingly, which could offer tremendous benefits and have an immense potential to ensure protection.
Three areas of AI safety are being researched to guarantee system safety: Specification, Robustness and Assurance.
Specification ensures that an AI system's behavior aligns with its true intentions. It analyzes objective functions, how they are designed, what the performance objectives are, and how a mismatch can be revealed in a design stage.
Robustness ensures that an AI system continues to operate within safe limits. AI systems must be resilient to unpredictable events and adversarial attacks that can disrupt or exploit them. Research on the robustness of AI systems focuses on ensuring that operations remain within safe limits, irrespective of the conditions encountered.
Assurance guarantees that the AI systems can be tracked and managed. Monitoring allows the system to evaluate and anticipate behaviors. Enforcement requires the creation of a mechanism to monitor and regulate the actions of the systems that may, if necessary, disrupt the system.
Typically, safety critical guidelines require the program to operate deterministically in space and time. Building AI systems on top of certifiable software stacks helps to demonstrate that the output is reliable and can be trusted, but safety critical systems consist of multiple processes competing for shared resources in real time.
Conclusion
In the future, using AI in everyday aviation to emulate a human's capabilities will receive widespread acceptance as AI will not only make autonomous flight possible, but also enable the human pilot to focus on important tasks such as flight safety. AI will help demonstrate the impact of human performance constraints and support the crew by anticipating and avoiding some critical situations arising from adverse operational conditions or the state of the crew's health. Regulatory groups are well on their way to providing safety guidelines for Safe AI in modern, unmanned platforms that will change the horizon of how business is done in the future.